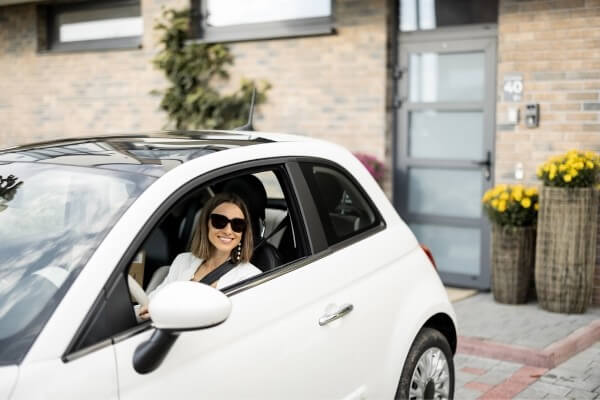 Nearly everyone's familiar with car-related jobs like food delivery and rideshare.
You probably never thought you could also get paid to advertise on your car.
This method attracts a lot of business.
According to Big Graphics Company, car wrap advertising receives 30,000 to 80,000 impressions per day with a single vehicle.
In addition, car wrapping methods reach 95 percent of Americans. (That's no surprise since most people in the U.S. are either drivers or passengers of vehicles.)
If you're interested in making money driving — which helps advertisers make money, too — read about the leads I have below.
How Does Car Advertising Work?
It uses two techniques:
Car wrapping
Cartop ads
How Car Wrapping works
Car wrapping involves an advertising company creating a vinyl print to place on your car.
When a campaign ends, the wrap's removed from your car. (You shouldn't worry about any possible damage to your car's paint job during the removal process.)
How Cartop Ads work
Another vehicle advertising method is the cartop ad, where a driver puts a small HD screen on top of their car that features digital ads.
It's an ideal money-maker for taxi and rideshare drivers.
Either way, people notice the ad and place orders for a product or service.
In return, you get a cut of the profits.
How Much Can I Make for Advertising on My Car?
It depends on how much a company pays and how many miles you drive per day.
You can expect around $100 to $1,300 per month.
What Companies Will Pay Me to Advertise on My Car?
These companies will pay you to put ads on your vehicle.
Earning Potential: $450 to $1,500 per campaign
You can make between $100 to $500 a month with Carvertise.
Signing up with this company is as easy as 1, 2, 3:
Fill out the application.
Wait to be matched with a brand.
Receive pay each month via direct deposit.
Once the campaign ends, Carvertise removes the wrap for free and finds a new campaign for you.
Earning Potential: Up to $800 per month
Live in Ontario?
Join MarketYourCar!
It'll wrap your vehicle at no cost, so you can make extra cash while driving your regular route.
Earning Potential: About $181 to $452 per month
Get started with Wrapify in a few easy steps.
First, download its app and sign up.
Next, complete the onboarding process.
Then, wait for campaign offers to arrive through the app and make money advertising on your car.
The Wrapify app is available for iOS and Android.
Earning Potential: Varies
With StickerRide, you can earn as much or as little as you want.
Download its app to select the stickers to put on your car and apply for a campaign.
Upon approval, you get paid on a per-mile basis.
StickerRide even allows you to make more money through quest and flashmob opportunities.
App is available for iOS and Android.
Earning Potential: $175 to $500 per campaign
If you're a delivery or rideshare driver looking to make extra cash, look no further than Nickelytics.
This app lets you earn money advertising on your car while working your shifts.
To be eligible for Nickelytics campaigns, you need to:
Have a car that's a 2010 or newer
Be a driver for DoorDash, Postmates, Lyft, or Uber
Drive at least 30 miles per day
Have a clean driving record and driver's license
Download the app, share your car details and driving habits, and activate the app while driving.
Nickelytics will locate designs and brands suitable for your driving habits.
Wrap installation and removal cost you nothing.
The Nickelytics app is available for iOS and Android.
Earning Potential: Up to $2,300 per year
Stickr pays you to stick business decals on your windows. (Don't worry about them blocking your view because they're see-through.)
You receive cash and gift cards worth $50 to $175 each.
I want to let you know that Stickr charges a $10 deposit.
However, you make your $10 back when you submit a photo of your decal.
Earning Potential: Up to £100 per month
If you're a U.K. resident, sign up for Car Quids!
Begin by filling out the form, and the company will locate advertisers and match you with advertisers.
Then Car Quids attach advertisements on your car, and you can start earning money.
Click on "Become a driver" to commence the application process.
Earning Potential: Up to $100 per month; $25 per referral
Play Octopus offers tablets that make trips fun for passengers while providing a cash flow for rideshare drivers.
Riders watch advertisements, play games, and read driver details while you make extra cash on top of your driver earnings.
You need to complete at least 100 rides a month for two months to qualify for a free tablet.
Go to this application to apply for a free tablet.
Earning Potential: About $300 per month
Are you a taxi driver, rideshare driver, or food delivery driver?
Join Firefly!
The company provides a small digital billboard to install on top of your vehicle.
This opportunity is currently available in New York, Chicago, Toronto, and other listed major cities.
The Firefly app is available for iOS and Android.
Earning Potential: $50 to $325 per week
Adway puts a twist on typical car advertising because instead of using wraps, it attaches small projectors to your car's windows to project static and video ads.
This opportunity is open to delivery and rideshare drivers who are at least 21 years old, drive at least 20 hours per month, have a clean driving record, and be able to pass a background check.
The Adway app is available for iOS and Android.
Earning Potential: $300 for installing cartop equipment; $100 per week
Besides food delivery and rideshare opportunities, Uber pays drivers through its Uber OOH program.
Uber OOH involves putting cartop equipment on your vehicle and earning a portion of ad revenue.
It's only available in certain cities, so you should fill out the Uber Cartop Interest Form to be notified of future openings.
Getting Paid to Advertise on Your Car FAQ
Here are frequently asked questions about vehicle advertising.
Which is the highest-paid car advertising company?
Adway is the highest-paying company on the list since you can make up to $325 per week.
I heard that some car wrap advertising companies pay drivers $400+ per week. Are those companies legit?
Yes, they can be legit. Just because a company claims they pay $400 a week to wrap your car, doesn't make it a scam. However, there have been many reports of people being scammed. And that brings us to the next question.
A company sent me a check asking me to cash and send half of it back. Should I cash it?
No!
Those are scam operations that usually trick people into accepting fake checks.
After they deposit the checks, they withdraw part of that money, give it to the scammer, and realize it's too late when they end up with a negative balance.
I fell for something like this once though it was through a "personal assistant" opportunity. (Luckily at the time, I had another bank account as a backup, or else I would've been in more trouble than I already was.)
Does Coca-Cola or Pepsi pay people to advertise on their cars?
Unfortunately, Coca-Cola or Pepsi don't offer car advertising programs.
Anything that claims to pay you through Coca-Cola or Pepsi ads is a scam you should stay far away from.
How old do I have to qualify for a car advertising gig?
It depends on the company, but typically between 18 and 21.
Are there other ways to make money with car advertising?
Yes, I can think of a couple of ways:
Find a local business that needs extra advertising help and suggest they could provide a car wrap or cartop for you to promote their products/services.
Start your own vehicle wraps company a la Big Graphics Company.
(Car) Wrapping Everything Up
Promoting a company via car wraps, cartops, or other methods creates a win-win situation: businesses can reach out to consumers, and you make some extra cash.
Whether you're a rideshare/delivery driver or an everyday commuter, cash in on this industry and get paid to advertise on your car right now!