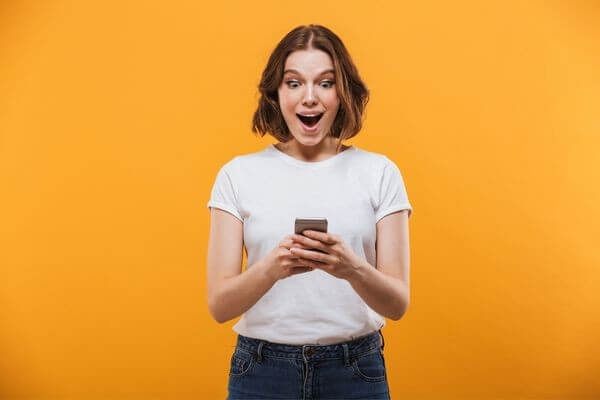 Wanna get paid to chat?
Well, do you like working in customer service but hate speaking on the phone?
Or, maybe you don't hate speaking on the phone; you just have a home environment that makes it impossible to do phone work, like crying babies or loud roommates.
Fortunately, there's another option: get paid to chat with customers instead.
Chatting with customers doesn't just benefit you; it helps them, too.
An SQM (Service Quality Measurement) Group case study shows that while 48 percent of customers prefer speaking with a call center agent, 18 percent (the second-most popular option) prefer using a web self-service or chat.
Generations X and Y are more likely to use chat options (18 and 19 percent, respectively) than members of the Silent Generation and Baby Boomers (13 and 17 percent, respectively).
This study doesn't surprise me since older generations tend to rely on methods that have been around longer — like phone assistance — than younger generations.
As an introverted Generation Y member, I find the case study on-target and relatable.
When I need customer service assistance, I use chat or email whenever possible and turn to the phone as a last resort.
Anyway, here is a list of sites that offer chat agent opportunities.
Companies & Apps that pay you to chat Online
Become a chat agent by applying through any of these websites.
The Chat Shop hires Live Chat experts from time to time to sell something or aid patrons with customer service issues.
Residents of the U.S. and the U.K. can apply.
It's not currently hiring, so it's good to reach out to the Chat Shop to ask about current openings.
If you have what it takes to be a virtual receptionist, check out Smith.ai.
As a Smith.ai virtual receptionist, you'll engage in tasks like booking appointments, screening clients, and collecting payments.
While the job includes phone work, it also involves web chats.
Pay: $15 per hour for U.S. agents ($16 per hour for those fluent in both English and Spanish); $11 per hour for agents outside the U.S.; $150 employee referral bonus
Working for LiveAgent comes with the following benefits:
Flexible work schedule
€ 300 bonus for new parents
Yearly salary raise
Online and offline company events
Plus more!
I'm not sure if LiveAgent is currently hiring since the "Open Positions" button doesn't seem to work.
I suggest you use the Contact page for job inquiries.
You can work in a customer support role for Helpflow.
The position consists of aiding customers with online orders via social media, email, and/or chat.
Helpflow only hires residents of the Philippines, and there's a waiting list for the chat position.
Modsquad hires people for moderation, social media, and customer support.
Its customer support position offers chat, email, and phone roles.
With Premium.Chat, you can communicate with your clients and followers in ways that are comfortable to you.
Communicate with them via video call, phone, and text chat.
Plus, you can make as much or as little money as you want.
Pay: Varies; $1 to $6 per minute; Up to $50 flat rate
Become a social media agent for LiveWorld!
In this remote position, you'll be interacting with customers as well as monitoring their comments.
You may have to work the occasional evening, holiday, and/or weekend.
Automattic customer support workers are called Happiness Engineers since they need to do what it takes to keep customers satisfied.
If you decide to apply and get accepted for the role, you'll interact with patrons through live chat, tickets, and forums.
Many customer service positions at Concentrix offer inbound/outbound phone communication, email, and chat roles.
This company hires in many countries, including the U.S., Australia, and China.
Pay: Varies depending on the role
PrestoExperts provides a platform for tutors to share their knowledge with others.
If you decide to sign up, you'll communicate with clients via email, phone, or live chat.
TTEC hires remote workers from many countries of the world.
It offers sales and customer service roles where you can communicate by phone, chat, or both.
Apply to E-Moderators if you want competitive pay and a flexible schedule.
You'll communicate with clients on social networks through text-based chats and moderate conversations to ensure civility and healthy engagement.
Pay: 10 to 24 euro cents per message
What makes TextingFactory interesting is that you don't need any experience to apply as a chat operator.
You'll assume various roles in a fantasy-based chat platform and speak with clients about topics like relationships, work, or the weather.
OutPlex provides remote positions in the U.S., Colombia, and the Dominic Republic.
If hired, you'll speak with customer service/sales clients through phone or chat.
Are you a people person who possesses excellent customer service skills?
Apply to GearLaunch!
The GearLaunch customer service office position involves communicating with customers through Facebook, Zendesk chat, and email to troubleshoot e-commerce platform issues.
If you work in law, medicine, finance, or other professions, sign up as a JustAnswer expert and get paid to answer others' questions.
JustAnswer allows you to work on a flexible schedule.
Plus, you pick which questions to answer.
Pay: $2,000 to $7,000 per month
Working Solutions allows you to work 15 to 40+ hours per week.
It offers independent contract customer service roles where you'll converse with customers via chat, email, and/or phone.
Asurion offers at-home and on-site customer support positions.
Communicate with patrons by messaging, phone, or chat.
Pay: Varies depending on the role
Besides being a major e-commerce platform specializing in books and other merchandise, Amazon hires people to offer tech support or customer service from home.
You'll use email, chat, and/or phone to respond to inquiries.
Like sales and freelancing?
Find your next gig through CloudTask!
CloudTask connects you to clients who hire remote sales chat agents.
Pay: $800 to $10,000 per month
ICUC is a Malaysia-based company that offers social media management roles.
Your job would be to help individuals and businesses handle their social media accounts.
Though Kelly is a well-known staffing agency, it also provides at-home customer and tech support positions.
You'll use your skills to aid customers via email, phone, and chat.
Pay: $15 to $20+ per hour
Arise lets you work for yourself from home. (This is where I got my feet wet in remote working.)
Keep in mind that you have to pay a certification fee depending on the client you choose to work with.
This platform offers opportunities ranging from roadside assistance to customer support through video chat or phone.
You might enjoy working for Crowd Chat if you're fluent in English and French.
In addition, you'll need to possess fast typing skills, a love of assisting others, and a reliable computer with a strong Internet connection.
Alorica offers many work-from-home customer positions in the U.S. and Canada.
As a representative, you'll use social media, phone, chat, and/or email to converse with customers and help them with any issues.
You can be an independent contractor for ECS Virtual Support.
Your role would be to provide customer support to patrons using live chat and video calls.
ECS isn't currently hiring, so check back from time to time.
Pay: $10 to $14+ per hour
Sutherland Global hires for remote tech and customer support positions.
Depending on the role you apply for, you'll speak with customers, Field Engineers, or other clients by chat, email, or phone.
Pay: Varies depending on the role
With Fiverr, you can make money in all sorts of ways, including creating a chat business.
Use your ingenuity and creativity to set up your chat business and charge by the minute or hour.
Williams-Sonoma Inc. offers full-time remote customer agent jobs.
You'll help with order-related issues via phone, live chat, and email.
Getting Paid to Chat Online: Closing Summary
Thanks to our vast technology, customers have more choices than the telephone to utilize when they need assistance with something.
And more options for customers means more money-making opportunities for you.
While some of the listed companies include phone work in addition to email/chat communications, others have chat-only positions. Choose what's best for you.
Either way, you get paid to chat, so go for it!