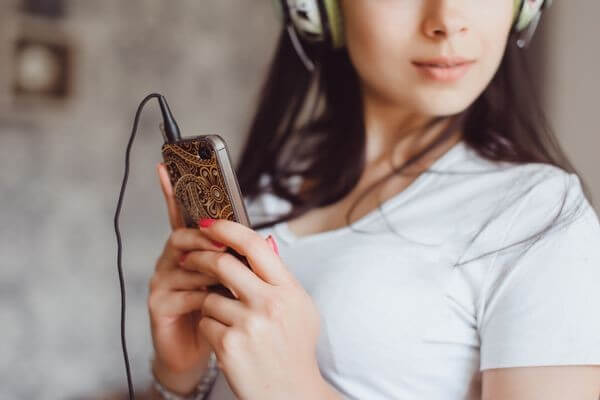 Did you know you could get paid to listen to music?
(I'll explain how you can do that in a moment.)
Listening to music is one of my favorite hobbies, especially since I can listen to tunes while writing, Internet surfing, or on the bus.
In fact, it's so popular that the average person listens to over 18 hours of music per week.
And if you happen to spend that much time listening to songs, you could practically turn it into a part-time job by earning money from your hobby.
Why would businesses pay you to stream music?
Some companies I'll list below provide a platform for up-and-coming music artists to broadcast their songs and depend on individuals like you to give them feedback.
Other businesses aren't review-related; they just pay you to play songs, or they are jobs you can do while listening to music.
Well, enough talk!
Here are websites that pay you to play music on your favorite mobile device.
Websites & Apps That Pay You to Listen to Music
Turn a relaxing, musical hobby into a side hustle with the sites and ideas below!
Pay Rate: Up to £800 per month
Radio presenter or social media influencer?
Become a music curator through Music Gateway!
Use its submission tool to promote your playlist, radio station, or podcast.
That way, you can save time by reviewing music on the go.
Pay Rate: Up to $600 per year
With Current Rewards, you earn money while streaming tunes.
Select from over 100,000 radio stations and play any music you like.
You accumulate points as you listen to your favorite songs.
Then, you redeem points for gift cards or PayPal payments.
Get the app for iOS or Android.
Earnably has many music-related tasks, including taking surveys that contain questions about music and watching music videos.
Plus, it offers thousands of gift card options you can choose from when you earn enough redeemable points.
The goal of Research.fm is to inform radio stations about what consumers want to hear.
It distributes surveys and pays users for sharing their opinions.
Research.fm doesn't seem to have an application form, so here is its number and contact form to inquire about any openings:
Ph: (877) 686-0999
Pay Rate: $100 to $200 per month
If you're a music industry professional, consider signing up for Music Xray.
Your job is to review radio playlists, song placement, and more.
Music Xray pays you via PayPal when you earn at least $20.
InboxDollars offers many kinds of paid tasks for you to do, including completing surveys, reading emails, Web shopping, and of course, listening to music.
This site starts you off with a $5 new member bonus.
Pay Rate: Varies
With Unique Rewards, you can make money listening to music, reading emails, watching videos, and signing up for free trial offers.
It even includes video tutorials to guide you through the site.
Pay Rate: About $12 per hour
Though Slicethepie has nothing to do with food, it's still a cool site because it pays you to review:
Unreleased songs
Clothing
Commercials
Accessories
Additionally, you receive your earnings two days a week.
Earn money every 15 minutes with RadioEarn!
How?
You can click an online radio station link or use its API (Application Programming Interface) to connect it to your website.
Then, you receive points every 15 minutes until payday. (Payday is once a month.)
Exchange points for Amazon gift cards, Bitcoin, or PayPal.
Pay Rate: Up to $15 per song
Thanks to Playlist Push, you get paid to listen to music on Spotify.
Once you sign up, you receive songs based on your preferred genres, review them, and earn money.
Swagbucks allows you to earn gift cards by shopping online, listening to songs, answering survey questions, and watching videos.
You even earn $10 upon signing up.
Put your unused phone minutes to good use with Cash4Minutes!
After signing up for an account, you add a phone number and conduct a test call.
Next, you dial your added number to stream online radio.
Then, relax and earn passive income.
Make more money by referring your friends.
HitPredictor lets you make money by predicting the next musical hit.
Rate new releases to earn points that you trade in for gift cards.
Pay Rate: $4 to $7 per 1,000 downloads
What's interesting about UP-4EVER is that you make money from uploading music rather than listening to it.
Locate royalty-free music from sources like Bensound and Soundstripe and upload songs to the platform.
Then, UP-4EVER shares ad revenue with you, so you make money every time visitors download your songs.
(Note: you can listen to the songs you find to ensure the files work well before uploading them. Therefore, you're technically getting paid to listen to songs on UP-4EVER.)
Pay Rate: Up to $60 per year.
Nielsen Computer and Mobile Panel offers surveys to obtain information on people's computer/mobile use.
After downloading the app, you can receive surveys about your music-listening preferences and habits.
Get the app for iOS or Android.
Now and then, WeLocalize has positions where you'll listen to a song and transcribe the lyrics.
It's not always available, so check back for information about current openings.
Pay Rate: $4 per lyrics
Many clients on Upwork provide gigs where you share your opinion on certain songs.
You can also create your own music review business through the platform by offering to review songs for a fee.
18. Be a Disc Jockey
Pay Rate: $18,000 to $89,000 per year
As a disc jockey, you make money by listening to and playing songs.
Plus, you could play music at various events, including proms, weddings, and holiday parties.
19. Work at a Record Store
Pay Rate: $13 to $16 per hour
Think about applying at your local record store!
Even though most people stream music these days, about 78 percent of people to be precise, some customers like purchasing and playing records.
20. Be a Delivery Driver
You can listen to music while earning money, whether you're a pizza delivery driver or work for a ride-share service like Uber.
21. Be a Landscaper
If you enjoy the outdoors, consider going into landscaping.
You can work for a company or run your own business.
Best of all, you can pass the time playing songs on the radio or on your phone while doing yard work.
Earn Money While Jamming Out!
Playing music — whether on the radio or online — is a great way to entertain yourself with old favorites or new tunes.
It's even better when listening to songs can be a good side hustle, too.
By reviewing music, you're helping businesses and music artists improve their work.
And if you're working a non-music-related job, you can play music in the background to pass the time.
Either way, you get paid to listen to music.
Awesome!