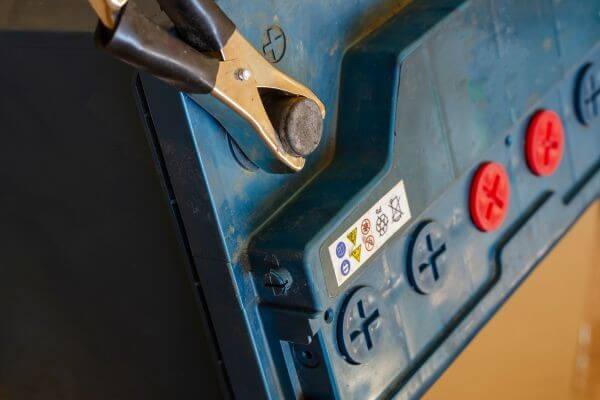 If you drive a car, at some point or another, you need a new battery.
And once you get a new car battery, you likely leave your old one to gather dust in your garage. Dust it off instead and sell it for some extra money.
You'd be surprised at how many options you have for trading your old battery for cash.
Can You Get Money for an Old Car Battery?
You can indeed get cash for your old car battery. There are lots of factors that will determine the amount of money you make selling it though.
This includes things like:
How much it originally cost.
The brand
Whether the battery is dead.
How much charge, if any, the battery has.
Where you plan to sell it.
Now, since the price depends on these factors, it's hard to say who pays the most for old car batteries. But generally, you can get anywhere from $5 to $100 per battery you sell.
Where to Sell Used Car Batteries for Cash Near Me
For selling your old car battery nearby, these places are your best avenues.
1. Local auto parts stores
Many local auto parts stores buy used car batteries. You can try national brands like Advanced Auto Parts, Napa, AutoZone, and O'Reilly.
You pay something called a battery core charge when you purchase a battery. This battery core charge is a deposit you put down on the battery that you'll get back once the battery is returned.
You can get back your core charge, which is between $5 and $12 usually.
So the question is do stores like AutoZone and O'Reilly give you money for old batteries?
Not directly!
Not all auto stores are obligated to pay you for your batteries. They may offer you a store credit that's equal to the amount of the core charge though.
2. Scrap yards
You can always take your used battery to the scrap yard if the local auto parts store won't pay you cash. They'll purchase your car batteries for the scrap metal.
The current scrap value for car/truck batteries is $0.14/lb. (source: iScrap App).
A car battery typically weighs from 25 pounds to 60 pounds. This means you could get anywhere from $3.50 to $8.40 per car battery from scrap yards.
3. Metal recycling centers
Local metal recycling centers will pay you for your unwanted car batteries. They work in a similar way to scrap yards in that they pay for the metal your battery contains.
Again, based on the current scrap metal value for batteries, you could expect to get anywhere from $3.50 to $8.40 per battery.
You can sell almost any car part on Craigslist, from car rims and wheels to tires and of course batteries.
Craigslist allows you to set your own prices and it doesn't charge you any fees for selling either. I did some research and saw that people were selling car batteries on Craigslist for between $1 and $100.
5. Local auto repair shops
Local auto repair shops are good for selling used batteries and you can even take in a dead battery. Many repair shops recondition dead batteries to resell them at a discount to their customers. Give your local auto repair shop a call to see if they'll take your old battery off your hands.
6. Pawnshops
Most things can be sold to local pawnshops for quick cash. This includes used car batteries. Just call ahead to ask. Selling to pawnshops is an excellent method for getting fast cash. They don't always provide the most value though. Most will offer you less than the value of your battery in order to resell it for a profit.
It might not just be the battery you're selling. You might want to sell your whole car and if that's the case, give Pull-A-Part a go. It buys junk cars. You could trade in your entire vehicle, including the battery, for some extra money.
8. Newspaper classifieds
List your old battery for sale in your local newspaper classifieds. This is an effective way to reach potential buyers near you.
9. Yard sale
Yard sales are a good method if you have multiple things to sell. You could find a buyer for your old battery and maybe clear out your home of some other items too.
Those looking to scrap their whole car, battery and all, should think about selling to Peddle. You can get an offer in minutes, there's free pickup, and you get payment for your car on the spot. You get paid by check.
11. Walmart
Some Walmart stores have a program in place where they buy your old battery. You can take it to the Customer Service Desk where they'll give you a core refund on your old battery or credit toward a new one purchased at Walmart. Call your local store to see if they offer money for old batteries.
You could list your battery for sale on Facebook Marketplace. It's free to list your battery on there and no fees are charged for local sales either.
You have the option to ship items too. To ship stuff, you will need to sell as a shop and pay a selling fee of 5% (or $0.40 minimum per order).
List your battery for sale on OfferUp. This online marketplace doesn't charge you fees on local sales where you don't ship items. You do have the option to ship stuff also for a fee of at least $1.99 or 12.9% of the sale price when shipped items sell.
Where to Sell Used Car Batteries Online
Honestly, selling locally is the best avenue for selling car batteries. They're so heavy so shipping can be a hassle financially. That being said, selling online puts your battery in front of people all over the country. This means that you're not just stuck selling to people near you.
These are some good options if you want to sell a car battery online.
Since it's so popular, eBay really is one of the best platforms around for offloading an old battery. It's free to list a car battery for sale there. eBay only starts charging listing fees if you list more than 250 items per month.
eBay takes a commission of 13.25% of the sale price or lower, plus $0.30 per order when your battery sells.
Like eBay, eBid is an auction website allowing you to sell stuff in multiple categories. You could list your old car battery for sale on the platform.
Trade in Your Old Car Batteries for Cash
Say goodbye to your old car batteries and hello to extra cash!
Now that you know where to sell used car batteries for cash near you, you can turn your automotive waste into money in your pocket!