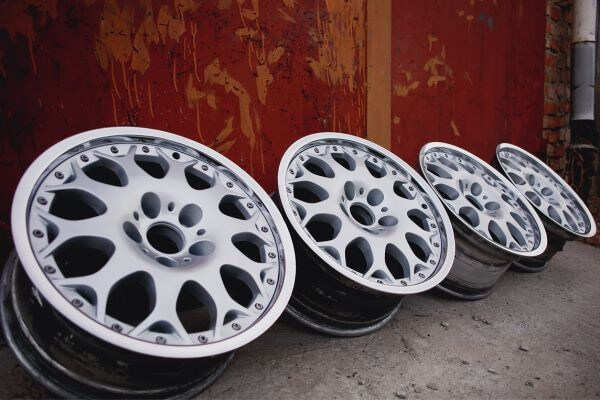 You may not need your old rims because you're upgrading them for new ones or you're getting rid of your car. Whatever the case, used rims can be sold in various places near you and online.
This is an effective way to make quick money and it beats letting the used rims gather dust in your garage or going to waste when you get rid of your old car for a new vehicle.
How Much is a Car Rim Worth?
Several factors can influence the price of used rims, including:
Size: Generally speaking, bigger rims means more material which means more value.
Condition: Rims that are in better condition tend to fetch more of a profit than rims that are damaged.
Material: Steel and alloy are the two main materials used on rims. Steel tends to be cheaper, and alloy tends to have a higher value.
Make and model: Rims that are common will tend to garner less money because buyers have a lot of options for sourcing them. You can typically charge more for rarer rims that are harder for buyers to find.
Original price: You can base your current price on the original price of the rims and then reduce your selling rate depending on condition and demand.
Keep reading for a list of places to sell rims for cash near you and online.
Where Can I Sell My Used Rims for Cash Near Me?
Trading in your used rims for cash locally is one of your best options as it's so quick and convenient.
The following options are your best bets when it comes to selling your used rims.
1. Automobile salvage yards
Honestly, automobile salvage yards are probably your best option if quick cash is your main target. You won't get the most money ever selling to these places. That's because salvage yards are resellers who're looking for profit. This means they may not offer you the full value of your used rims.
You can find automobile salvage yards in various cities and towns in the United States. Therefore, it's likely that you have one near you.
Most of the time, salvage yards will pay you the going rate for the scrap metal weight of the rim.
2. Used tire shops
Some local used tire shops or tire retread shops may also purchase used rims. You can find these shops by doing a quick internet search for "used tired shops near me." Used tire shops, just like automobile salvage yards, are resellers and therefore will purchase your rims at less than their value to resell them for a profit. This means you may not get the most value selling to these places.
If you have some rims that are in good condition though, give your local tire shop a call to ask if they buy used rims.
3. Scrap metal yards
You could sell your used rims at scrap metal yards. This is one of your best options for getting cash quickly. Scrap metal yards are also particularly good if your rims are of low value and in poor condition because they will give you the scrap metal value for the weight of your used rims.
Some metal materials are more valuable than others. This can impact how much money the scrap metal yard offers you. You can get a rough estimate for the current value for metal here and then simply multiply it by the weight of your rims.
Scrap yards are an effective option for low quality rims. For rims that are in great condition with a high resale value though, I'd recommend looking elsewhere.
Wheels America operates in three locations – California, Pennsylvania, and Texas. You can drop off your rims or the company can come pick them up if you live near one of its local service areas. Those who aren't local can ship the rims. The company provides you with a prepaid shipping label.
You can get between $5 and $85 per wheel if it's in good condition and the company has use for it.
Sell My Tires is a classified ads website. You can list your rims for sale online through the site. You can meet with local buyers and get cash for your used rims.
You can sell pretty much anything on Craigslist and that includes used car rims.
It's free to list stuff for sale on CL and it doesn't charge you any commission fees. This means you get to keep 100% of the profits.
A variety of items can be sold through Facebook Marketplace including used rims. You can sell to people locally.
Listing items is free on there and there are no fees for local sales. You do also have the option to ship items.
To ship stuff, you will need to sell as a shop and pay a selling fee of 5% (or $0.40 minimum per order).
Where to Sell Rims Online
Selling rims online has the potential to reach more buyers. Here are some online options for trading in your rims for cash.
Blackburn OEM Wheel Solutions purchases 2008 or newer used Original Equipment Manufacturer (OEM) rims. It only purchases OEM alloy and steel rims. It does not purchase custom or aftermarket rims.
Blackburn has several programs you can utilize to sell used rims. You can learn more on the website linked above.
eBay Motors is a website where you can list used rims alongside any other auto parts or even vehicles that you may want to sell. You can set your own prices giving you more control over your earnings.
Keep in mind that the site does charge fees, which you can learn more about here.
You can sell a range of items on Mercari, including used rims. You do have to pay a fee of 2.9% plus $0.30 payment processing fee when your rims sell.
Auto Rim Shop is an online retailer of auto parts. It also buys your old used rims.
To sell to the company, you must have OEM rims with no structural damage. It does not make offers on chrome or aftermarket wheels.
You'll need to take a photo of your wheel and email it and the year/make/model to purchasing@autorimshop.com.
The company will give you an offer if your rims qualify and if you accept the offer, you can ship it to the company using the prepaid shipping label provided. You get paid by check.
American Factory Wheel purchases OEM aluminum (also known as alloy) and steel rims. You can complete the form on the website linked above to sell your rims to the company.
The company will give you and offer and if you accept this offer, it will pay for shipment of the rims.
Other Places to Find People Who Buy Rims
While the above mentioned places are great, if you don't have access to those places or just need more options, here are a few more places to try.
Auto parts stores
Specialty wheel shops
Classified ads
Online forums and car enthusiast communities
Wheel consignment shops
Local auto shows and meetups
Online tire and wheel retailers
Car dealerships
OfferUp app
Letgo app
Gumtree (for UK, Australia, and other countries)
Car forums and online marketplaces specific to your car's make and model
Local pawn shops
Automotive swap meets and flea markets
Garage sales and yard sales
Online buy/sell groups on social media platforms (e.g., Reddit's r/WheelsForSale)
Cash for Rims: Summary
Most of us don't realize we have cash in the form of things like rims, car batteries, etc. just sitting in our homes.
Selling old rims not only get you some cash, but it also stops yet another item going to the landfill.
And with so many options both online and local, it's easier than ever to sell your rims for cash without driving yourself crazy trying to find a person who buys rims near you!