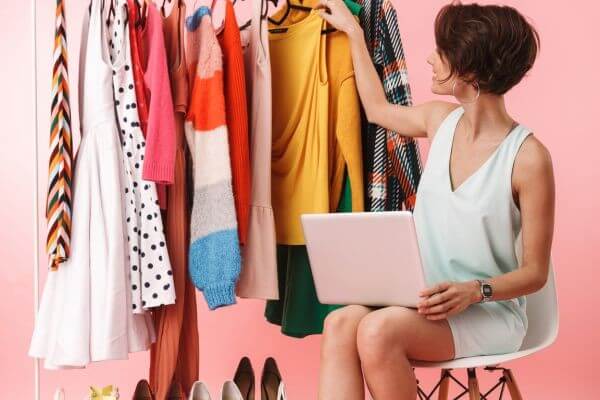 The global market for secondhand clothes is set to nearly double, hitting $350 billion by 2027.
This means that it's a good time to sell your clothes.
"Where can I sell my clothes though?", you ask.
There are a multitude of places to sell them online and offline. Many of us have clothes that we just don't wear anymore. Whether you're changing your wardrobe, have lightly worn clothes you no longer wear, or even have been losing weight and your clothes no longer fit you, you may as well declutter your home and make some money in the process.
Some examples of clothes you can sell include:
Jeans
Shirts
Dresses
Shorts
Sweaters
Shoes
Purses
Kid's clothing
Baby clothing
Athletic wear
Sports jackets
Suits
Where to Sell My Clothes Online
The internet is one of the best places to sell used clothing. There are plenty of buyers and you can often get a good price for your stuff.
Poshmark is a website and an app where you can earn money selling used clothing and accessories. Take some photos of your clothing, price it, and list your stuff in just a few steps.
You can use the company's label to ship your clothing and cash out as soon as the order is complete.
It's free to list clothing on there. Poshmark takes a flat commission rate of $2.95 for sales under $15. For sales that are worth $15 or more, the company takes a 20% commission.
Vinted is a popular secondhand clothing platform for people of all ages.
My mother-in-law and her sister are always buying used clothes and accessories on there. It's an ideal place to offload some of your unwanted stuff as there are no fees for listing your items or selling them on there.
ThredUp is an online consignment and thrift store. You can buy and sell secondhand clothes and find clothing from brands at up to 90% off.
You can ship your items to the company and cash out or get shopping credit when your stuff sells. You can earn 5% to 80% of the selling price.
Pretty much anything you can think of can be sold on eBay and that includes your old clothing.
You can list more than 250 items per month for free on there. There's a selling fee of 13.25% on eBay for most categories. Since eBay is such a popular site, there are plenty of potential buyers to sell to.
List your used clothing on Mercari. You have to pay a fee of 2.9% plus $0.30 payment processing fee when your stuff sells.
Etsy is often known as a place for selling handmade items. It's also a good place to sell clothing as well. It's best for vintage and retro clothing.
There's a listing fee of $0.20 per item. You are also charged a 6.5% fee when your clothing sells.
Put your clothing on Depop and sell it for some extra cash. Create an account to start selling, take some photos of your clothing, describe what you're selling, and set your price.
It's free to list items for sale on Depop. The site does charge a 10% fee when your items sell though.
The RealReal is a company where you can buy and sell bags, jewelry, and clothing from designers like Gucci, Louis Vuitton, and Prada.
The site pays sellers between 20% and 85% of the sales price.
This is an ideal place to sell on if you're looking to offload luxury, designer, or high-end clothing.
Sell used luxury fashion items on the Vestiaire Collective. You can list your item for sale for free and add a few photos.
Shipping is free too with the company providing a prepaid shipping label. You take home up to 85% of your sales. The site is best if you have designer clothing and high-end clothing to sell.
Grailed is an online marketplace that's great for trading in your old clothing for some extra money. You can sell things like streetwear and designer pieces on there.
Items can be listed for free on Grailed. Sellers pay a 9% commission fee on items they sell.
Sell used luxury items on Rebag, including handbags, watches, accessories, jewelry, apparel, and shoes.
You can find your item using the company's image recognition technology or guided search. Tell the company a little about your item, such as its color and condition. You can then generate a quote for the item's current resale value.
Get a prepaid shipping label and send your items to the company.
Shpock is a UK-based marketplace and classifieds platform. Sell a variety of fashion items and accessories on there and list them for free!
The platform doesn't charge any commission fees. This means you can keep all the money you make from sales.
ASOS is a popular fashion retailer in many countries. You can actually open a boutique on ASOS Marketplace and sell stuff. This option is ideal for anyone looking to sell clothes as a side hustle rather than simply to clear out their wardrobe.
On ASOS Marketplace, you can sell true vintage clothing and accessories, which the site says are those Y2K or earlier, or your own designs through your own independent label.
The company says that customers are able to filter the site easily between new and vintage pieces, so you'll be able to find the audience for you.
It charges a 20% commission on sales.
Since kids grow fast, they often need new clothing meaning you're just left with old stuff taking up space in your home.
You can sell kids' stuff on Kidizen. Set up a shop and list your items for sale.
Where Can I Sell Clothes Near Me?
The internet is great for selling. Local places are also awesome, mainly because you can get cash on the spot, and you don't have to worry about shipping anything.
These places are your best options if you want to sell clothes near you.
Crossroads allows you to sell clothing and accessories for cash or trade credit.
When you trade in your stuff, you get trade credit that's good at any of the company's stores. Crossroads Trading pays 50% in trade of what it prices your items to sell for in the store.
When you sell your clothes for cash in Crossroads Trading stores, you get payment on the spot. The company pays 30% in cash of what it prices your items to sell for in the store.
With Facebook Marketplace, you can sell in various categories, including clothes, and listing is free too. You can arrange cash sales with in-person buyers.
There are no fees on local sales. You're also given the option to ship your clothing if you want to. You pay a fee of 5% though or $0.40 minimum per order.
Buffalo Exchange is a buy, sell, and trade store that buys clothes from the local community.
Bring in your clothes to your local store to sell your stuff – no appointment is required. You will need to take a valid, government-issued ID with you like a Driver's License or Passport.
On the day you sell, you'll get 25% of Buffalo Exchange's selling price in cash or 50% in-store credit for anything the company is able to buy.
Buffalo Exchange buys men's and women's clothing and accessories that are in good condition.
You can sell things in different categories on OfferUp. Take some photos of your clothes, set your prices, write a description, and then list them for sale.
You aren't charged any fees if you sell locally. You also have the option to ship your clothing if you pay a fee of $1.99 or 12.9% of the sale price.
Once Upon A Child buys gently used kids' clothes, shoes, toys, and baby gear that meet current style, safety, and condition standards.
Bring the items to your local store. A store employee will review your items and make you an offer based on style, safety, and condition standards. You'll get an offer for your items and get paid cash on the spot. You will need to show your ID when selling your gently used items.
Style Encore offers gently used women's clothes, shoes, and accessories. Sell your clothes to the company for cash on the spot. Just bring your items to your nearest store, and you'll get an offer on the selected items.
Uptown Cheapskate is a thrift store where you can sell your used apparel, handbags, and accessories for cash on the spot. It buys men's and women's clothing. The store will offer you instant cash or 25% more in trade.
It offers between 25% and 35% of what it prices items at in cash. The store says it will pay a higher percentage for high-demand brands like Lululemon, Free People, or Zara and that it pays a little less for mass-produced brands.
For high-end brands, like Chanel, Louis Vuitton, Prada, or specialty items, Uptown Cheapskate offers cash and consignment. When you consign with the company, it pays you up to 60% of the selling price when your item sells.
22. Consignment stores
Local consignment stores are an avenue to consider if you have some clothes to offload.
Do an internet search for "consignment stores near me," to find local stores. Take your items to the store where an employee will inspect them and quote you a price.
Your clothing will be placed in store for sale if you accept the quoted price.
You'll get paid once the store sells your clothes. Consignment stores do take a cut of the sale. Usually, they charge a commission of between 20% and 40% (or even more than that) of the amount your clothing sells for.
Some stores even charge if your items don't sell. Since each consignment store varies in its rules and policies regarding the selling process, ask stores about their rules and commission before the sale. You should also ask if the store buys clothing since not all of them do.
23. Thrift stores
Local thrift stores may also take unwanted clothing off your hands. Call a few local stores to ask if they buy used clothing. You can find nearby thrift stores by doing an internet search for "thrift stores near me."
The downside to thrift stores is that they don't always provide the highest prices. They want to sell stuff for cheap so will generally offer you lower prices. The upside is that they can pay you then and there.
24. Yard sales
A yard sale is perfect if you have a whole host of things to get rid of. Old clothing can be offloaded over the weekend for some quick cash.
Get rid of your old clothing with VarageSale. The site works like an online garage sale where you can sell a multitude of items. It's free to list stuff for sale on there as well.
Tips for Selling Your Used Clothing Fast
I've covered some tips to help you sell your used clothing quickly.
Check for damage or stains
No one wants to buy damaged, stained, or heavily faded clothing. That's why before you take your clothes to a local store or sell them online, you should examine them under a bright light. Check for any tears, stains, or discoloration.
Sell your clothes often
Many people shop for their clothing seasonally. For example, they may look to purchase sweaters at the start of fall and lightweight dresses or shorts at the start of summer. That's why it can be effective to sell your clothes every three months. Make sure that the clothes fit the upcoming season. That way, you can capitalize on consumer demand.
Make sure your clothes are clean and wrinkle free
Freshen up clothing before you take it into a local store or sell it online. Soiled and wrinkled clothing is not appealing to buyers.
Take the time to wash or dry clean clothes before you sell them.
Freshen up shoes and accessories too. Polish them and buff away any scuff marks.
Know the value of your clothes
Knowing how much your clothes are worth is important. You don't want to get short-changed and you also don't want to set your prices too high and put off potential buyers. Be sure to research online what other people are selling similar items to you for.
Add numerous high-quality photos to your listing
Customers want to know exactly what they are buying, which is why having photos on your listings is key. Be sure to include clear photos taken with good lighting.
Customers can't really see an item clearly if the photos are dark, grainy, or blurry.
Photograph the front and back of each item you're selling and if there's any detailing on it, be sure to also photograph that.
Take photos of any labels on the clothing, particularly if the piece is from a well-known or popular brand.
Having high-quality photos on your listing means it's more likely that people will click on it and buy your item.
From Wardrobe to Wallet!
Decluttering your wardrobe can be rewarding in more ways than one. By selling your clothes, you not only create more space but also earn some extra cash.
Whether you choose online platforms or local shops, there's a world of opportunities to sell your clothes and make a positive impact on your closet and your finances. So, now that you know where to sell your clothes, don't hesitate – start listing your clothes for sale and enjoy a more organized and profitable closet.