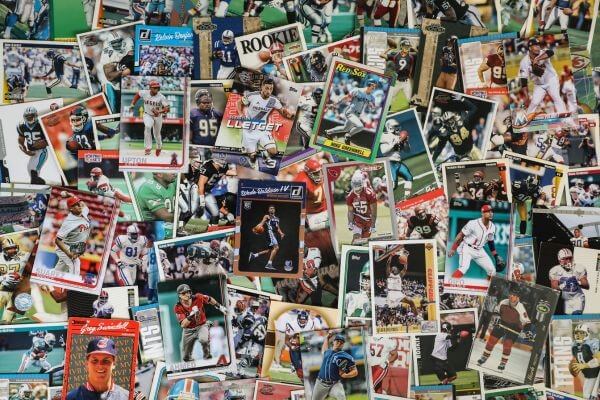 Sports cards are a hot commodity with a Topps 1952 Mickey Mantle Baseball card selling for $12.6 million in 2022.
While not all sports cards are so valuable, most still have some resale value meaning they can be traded in for some quick cash.
Whether you have a single sports card or a collection of them, selling them is an easy way to put some extra cash in your pocket.
That's what I did. A while back my aunt was clearing out her home and had a box of sports cards she didn't want. She said I could have them and if I wanted to sell them or give them away, I could. I thought, you know what, selling them makes a whole lot of sense.
All sorts of sports cards can be sold, such as:
Baseball cards
Basketball cards
Boxing cards
NFL cards
MMA cards
You also have local and online options too.
Where Can I Sell Sports Cards Near Me?
Really one of the simplest ways to get money for sports cards is to sell them locally. You forgo the hassle of shipping and can get money on the spot.
These places are your best bets for local sales.
1. Local card shops
Perhaps the easiest way to sell sports cards is through local card shops. They can be found with a quick Google search for "local card shops near me."
Call ahead first to check if they buy used cards. Head on over there with your collection and trade it for cash.
Although convenient, local card shops aren't the best option money-wise. This is simply because these establishments typically purchase cards for a lower price than their value because they want to resell them for a profit. Something to keep in mind.
Craigslist is easy to use and it's free making it one of my go-tos for offloading stuff! This includes sports cards.
You can put up a listing within minutes and reach lots of potential buyers. There's no commission charged either!
3. Pawn shops
Local pawn shops will likely take sports cards off your hands.
You're not going to get the most money at these establishments since most of them are looking to resell your stuff for a profit. For quick cash though, they're excellent.
OfferUp is good for selling a whole host of different things from your used furniture to sports cards. Put a listing on there and you could offload your unwanted sports cards to people near you.
OfferUp does not charge fees for local sales. This means you can put up a listing and keep 100% of the sale price when your cards sell.
There is also the option to ship stuff if you want to expand your horizons outside of your local area. You'll pay a fee of at least $1.99 or 12.9% of the sale price if you do choose to ship your cards.
5. Yard sales
Sometimes you can reach buyers at a yard sale that you may otherwise have not reached.
You can get your own prices and sell off some other items you may have to get rid of while you're at it.
Where Can I Sell Sports Cards Online?
You can reach a lot of potential buyers on the internet. That's why selling online is such a lucrative option. Also, sports cards aren't too hard to ship.
These places are your best choice for online sales.
We all know that eBay is good for selling stuff and sports cards are no different. You can list up to 250 items a month for free on the platform.
Fees for selling are 13.25% of the sale price for most categories.
DA Card World will buy sealed boxes and cases of sports cards and modern sports card singles.
This company takes a lot of different sports cards, like baseball cards, F1 cards, and soccer cards. This makes it particularly good if you have cards from different sports to sell.
Sell everything from baseball cards to hockey cards on SportsCardPro.
There are no listing fees. You do have to pay a payment processing fee of 2.9% plus 30 cents though.
Dean's Cards sells more than 1,000 vintage baseball cards a day and maintains an inventory of 1 million cards. This makes it the largest online vendor for vintage cards.
It will buy pretty much any card that's from 1969 or before and most complete sets through 1985.
With the exception of some complete sets, the company rarely purchases cards newer than 1980.
Sell everything from baseball cards to football cards on there.
Fill out the form to get an appraisal. You can mail your collection to them.
Sell your sports cards, sports collectibles, and sports memorabilia at The Cardboard Connection.
All you need to do is fill out the form on the website and The Cardboard Connection will refer you to one of its industry-leading buying partners. The company will be in touch to start the buying process a couple of days after you've filled out the form.
It's mostly looking for cards from before 1974 as the company claims that most cards from the 1980s and 1990s don't have much value.
The Cardboard Connection has facilitated the sale of more than $1 million worth of sports cards and collectibles!
You can sell vintage sports cards on Just Collect. The site purchases cards from 1979 or earlier. It will also purchase some modern cards.
Get details of what types of cards they purchase on the webpage linked above.
Start selling your cards by using the site's free appraisal form. Mail your collection to the company and it pays for shipping and insurance.
There's also the option to sell cards to them in-person. You can drive to one of the company's appraisal locations or they can drive to you. Through the site, you can sell everything from basketball cards to football cards.
Reddit is not just a site for discussing topics and sharing your opinions. It's actually a place to sell stuff.
Reddit has multiple subreddits dedicated to sports trading cards, like:
Users can post their sports cards for sale in these subreddits.
Ebid is an online auction platform and a contender for those looking to get rid of sports cards. List them for sale on there.
Get a quote for your sports cards from Kruk Cards. It will buy collections large and small. It's been buying and selling for more than 30 years.
You can sell everything from baseball cards to golf cards to the company.
Bonanza is like a less competitive eBay. The good thing about that is that you're competing with fewer sellers.
You can put up a listing for your sports on there and it's free to do. The commission charged on sales is 3.5%.
Around since 2008, Atomic Mall is a well-established platform to sell a sports card collection. Many different cards can be sold here, from basketball cards to golf cards.
Set your own prices and decide how much you earn.
Kind of like eBay, Webstore is an auction site. Sell your used sports cards for some quick cash in your pocket. The site has a category just for sports cards and memorabilia.
Webstore is free to use and you aren't charged a fee when you sell either. That means you keep all of the money you make from the sale.
Forums are an effective medium for reaching buyers directly. One such forum for sports cards is the Blowout Cards Forum. Here, people discuss collecting and trading sports cards. There's a marketplace section featured on the platform enabling users to list their cards for sale.
Set your own rates and sell soccer cards, WWE and wrestling cards, baseball cards and more.
The Sports Card Forum includes multiple sections for different sports cards, such as football cards, hockey cards, and basketball cards. Post your sports cards for sale on the forum.
Offload your sports cards, comics, gaming cards and more at COMC. Just create a free account on the marketplace and send your cards to the company.
You can actually set your asking price. Plus, you can respond to offers from buyers.
Sell everything on there from soccer cards to baseball cards.
There are a few different payment options provided by COMC:
Convert the store credit you get into cash.
Redeem store credit to buy sealed boxes and cases.
Use the store credit to purchase other trading cards or collectibles.
Knowing that a company has been in business for a while is an effective method of determining whether it's legit. 2nd Markets fits the bill here with more than 30 years of experience with buying from the public.
Plenty of types of sports cards can be sold here, like important star baseball cards, basketball cards, and pre-1980 football cards.
This company is best if you have a large collection of cards because that's what it mostly buys. It will only typically buy single items or small collections if they're particularly valuable.
Play Your Cards Right!
I put the money I made from selling sports cards towards a new coffee table. This was something I actually needed. That's the beauty of selling sports cards. You can get cash for something that you really need and declutter your home in the process.
But no matter what you use the money for, be sure to do your research and check similar listings to see how much people who buy sports cards near you or online pay for the kind of cards you are selling.
That way you can sell your sports card for the most money possible!