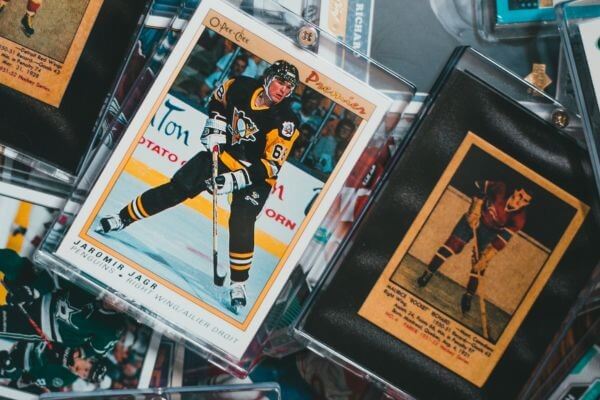 Hockey cards, like all sports cards, are a way for passionate, hardcore hockey fans to support their favorite teams and players.
Not only that though, hockey cards can be traded for extra cash. You just have to know where to sell them.
You may have a collection that you've inherited or you may just want to try selling hockey cards as a side hustle.
In any case, there are plenty of avenues for offloading them for a little extra money. This includes places to sell hockey cards near you and online.
Are Old Hockey Cards Worth Anything?
Old hockey cards definitely have value. In 2020, a 1979-80 O-Pee-Chee Wayne Gretzky Rookie card sold for $1.29 million!
I'm not saying that your collection is going to fetch that amount. However, you could still bring in a little extra money from the cards that you have. You just need to know where to sell them.
By the way, while there are many great hockey leagues around the world like Kontinental Hockey League (KHL) and SHL (Swedish Hockey League), most valuable hockey cards come from the NHL (National Hockey League).
Where Can I Sell Hockey Cards Near Me?
Honestly, selling hockey cards locally is the best bet if you're wanting cash fast. Most times you'll get cash on the spot. You also don't have to worry about shipping the cards.
Best for: In-person cash sales
Facebook Marketplace facilitates local sales of pretty much everything you could think of. Naturally, it's also a good place to sell hockey cards locally.
The main advantage of Facebook Marketplace is that you can deal in cash and there's no worry about shipping your collectibles either.
It's also a good platform cost-wise as you don't pay any fees on local sales. You can also set the prices for your cards.
You can also ship your cards provided you sell as a shop and are willing to pay a selling fee of 5% ($0.40 minimum per order).
Just log in to your Facebook account, create a listing for your hockey cards on the Marketplace, and start selling.
2. Local card shops
Best for: Selling a wide range of cards for money fast
Local card shops can be a good choice if there's one near you. You can give them a call and ask if they'll buy your hockey cards.
Do an internet search for the phrase "sports card stores near me" or "hockey card stores near me," to find local places.
Local shops are awesome for getting money on the spot. However, they typically want to resell your cards, which means they'll usually purchase them for a lower price than their value.
Best for: Selling more common and lower price cards
You can list just about anything for sale on OfferUp from car parts to clothing. It's also a good platform to list hockey cards.
All you have to do is take some photos of your hockey cards, set your price, write a description, and start selling.
OfferUp does not charge fees for local sales. That's great for your profits.
There is the option to ship cards though for a fee of $1.99 or 12.9% of the sale price.
It's a particularly good choice for selling lower value collectibles that may not fare well on premium marketplaces.
Like with Facebook Marketplace, you can negotiate with potential buyers on the platform and organize a cash sale in person or ship your cards if you want to.
4. Pawn shops
Best for: Getting quick cash on the spot
Some pawn shops will buy hockey cards. You're not going to get the best prices here.
Like those local card shops I mentioned before, pawn shops will want to resell your stuff for a profit. This means they will purchase your cards at a lower price than their value to resell them for a profit. For quick cash though, pawn shops are ideal often providing you with quick cash payments right then and there.
Best for: Beginners and avoiding selling fees
Craigslist is a super popular classified website where you can sell almost anything to people near you.
It's a free and easy way to list items for local sale, including sports collectibles like hockey cards.
Hockey card collections often appear on Craigslist in my area.
The main advantage to Craigslist is that listing is free and there are no fees when your cards sell. You can meet in person with buyers for cash transactions.
6. Yard sales
Best for: Beginners and those looking to get money fast
Yard sales enable you to tap into a market of hockey card collectors and buyers who may not really shop online. The main advantage of yard sales is that you can set the price you want for your cards. Yard sales are ideal if you have some less valuable cards and are just looking to get some quick cash for them. You can get money on the spot for your cards.
Where Can I Sell Hockey Cards Online?
Selling online enables you to reach a wider range of buyers than you would just selling to people locally. That's why it's an avenue to consider.
Best for: Getting the highest price for your hockey cards
EBay is a massive online trading platform. You can sell all sorts on there, like vehicles, antiques, and sports collectibles, like hockey cards.
You have complete control over your prices, which is always a bonus. It's good for selling professionally graded hockey cards, and there are many collectors looking for those on eBay. It's just good for selling cards in general though. List your collection there.
You can list up to 250 items a month for free on eBay. You do pay a selling fee on there. The fees for selling are 13.25% of the sale price for most categories.
It's a good idea to upload numerous high-resolution photos and a detailed description for your cards. This will help you to compete with more experienced sellers.
Best for: Experienced dealers
Beckett features pricing guides and checklists making the card selling and trading platform a great platform for hockey fans.
You will need to register yourself as a dealer on Beckett if you want to sell your hockey cards for cash.
The Becket Marketplace has an inventory of more than 30 million sports, non-sports, and gaming cards, and collectibles from dealers nationwide. Beckett Marketplace dealers reach more than 20 million collectors each month.
As a Beckett Marketplace Dealer, you'll get your own customizable online storefront, the ability to list your items for sale on the marketplace, and access to millions of stock card photos to enhance your listings.
Once you register, you'll get access to numerous tools to help organize your collection and keep track of selling prices.
For experienced sellers and those with a vast collection of vintage cards, Beckett is an ideal marketplace.
Best for: Quick sales of single hockey cards or entire collections
Dave and Adam's Card World (DA Card World) purchases sealed boxes and cases of sports cards and modern sports card singles.
You can sell hockey cards on there, as well as cards from other sports, like baseball, football, and soccer.
The company is one of the leaders in the collectibles industry with more than 30 years of experience.
Best for: Selling your vintage hockey card collection
OTIA has more than 20 years of experience purchasing collections. You can get an offer from the company that's good for 30 days. Just describe your collection, send a few pictures, and submit an asking price. The company is mostly looking for pre-1975 sports cards.
It will not buy cards from 1985 to 1995 if they are the only cards in your collection. However, it will still buy them if your collection also contains vintage cards.
You can ship your collection to the company and get paid by cash, check, or PayPal.
Best for: Setting your own prices and controlling profits
Surprisingly, Reddit is one of the best places to sell hockey cards. There's a Reddit community called r/hockeycardswap where you can sell your old hockey cards.
Best for: Selling rare cards, star cards, and rookie cards
Dean's Cards maintains an inventory of more than 1 million cards making it the largest online vendor for vintage cards. You can sell your hockey cards to the company and other types of sports cards too, like baseball cards, football cards, and basketball cards.
Dean's Cards will purchase the following types of hockey cards:
Pre-1978 hockey Cards
Pre-1985 Complete Sets
Pre-1975 Graded hockey Cards from PSA, BVG, and SGC
Best for: Finding targeted buyers
Blowout Cards Forum is a place where people discuss collecting sports cards and trading cards. There's a marketplace section on the forum, which is linked above, where you can sell different types of sports cards, including hockey cards.
Post your cards for sale on there. You can set your own rates too giving you more control over your profits.
Best for: Selling collections of all sizes
Kruk Cards has been buying and selling for more than 30 years. They purchase collections large and small. The company will assess your cards and give you a quote. You can sell hockey cards on there, as well as other sports cards like baseball cards, golf cards, and football cards.
Best for: Avoiding listing and selling fees
SportsCardPro enables you to sell many different types of sports cards like soccer cards, UFC cards, baseball cards, and hockey cards. You can sell your hockey cards on there without paying a selling fee.
You are charged a payment processing fee of 2.9% plus 30¢ when your cards sell though. You're paid to your PayPal account.
Tips for Selling Hockey Cards for Cash Fast
Here are some quick tips you can use to help increase your chances of selling your hockey cards.
Know the value of your cards
Make sure you research similar cards on sites like eBay so you can price your cards competitively.
Upload many high quality photos
People want to see what they are buying. That's why it's so important to include multiple high-quality photos on your listing.
Consider having your cards graded
It could be worth paying to have rare or vintage hockey cards graded with a grading service like Beckett Grading.
Respond to potential buyers quickly
It's important to respond to potential buyers as fast as you can. Otherwise, a buyer may simply purchase from someone else. Respond to potential buyers quickly and professionally and you will increase your chances of making a sale.
Try a few different options
You could list your cards on a few different sites to access more potential buyers. Or consider getting quotes and offers from a few different places.
Slapshot to Success: Trading Hockey Cards for Cash!
The world of sports memorabilia and collectibles is a big one with multiple marketplaces to buy and sell both online and offline.
Whether you're a die-hard fan or a casual collector, selling hockey cards for cash is a winning play.
Now that you know where to sell your hockey card collection there's nothing left to do other than stepping onto the ice of the marketplace and selling your hockey cards!