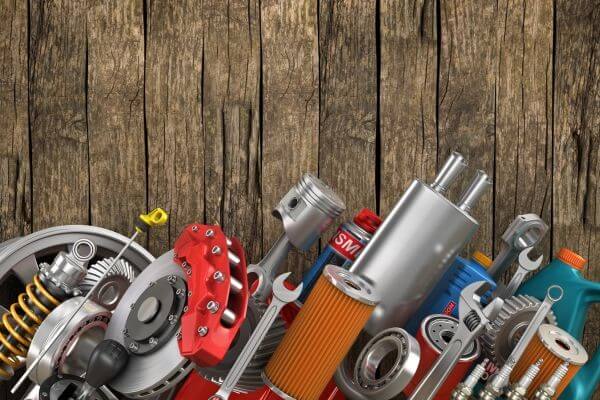 Used car parts can fetch a pretty penny no matter what kind of a car you drive.
But just where can you sell car parts for cash near you or online?
Those interested in selling old car parts will be pleased to know that there are indeed a variety of options out there for trading in old and used car parts for extra money.
Don't toss out your old car parts. Sell them for cash instead!
Can You Make Money Selling Used Car Parts?
Yes, you can sell car parts and make good money doing so.
Used car parts worth selling includes things like:
Catalytic convertors
Engines
Bumpers
Alternators
Spark plugs
Oil filters
Brake pads
Shocks and struts
Seats
Steering wheels
Dashboards
Center consoles
Fenders
Headlights
Taillights
Hoods
Windshields
I didn't include tires and rims since they have a totally different market. If you are however interested, check out our posts with a list of best places to sell used tires and the top places to sell used rims for cash.
Where Can I Sell Car Parts for Cash Near Me?
Dust off your old car parts and sell them nearby. This is a quick and convenient way to make extra money.
1. Local auto shops
Your local auto shop is a good place to get started when selling used parts. Lots of places will happily pay you cash for your old vehicle components.
Search for "local auto shops" on Google to get places near you. Call ahead to confirm with the business that they buy used parts. All that's left to do then is get cash!
Selling individual car parts can be a hassle. Sometimes, it's easier to get paid for the entire vehicle in one hit. Carvana offers such a service. It'll pay you for your used car. You can get an offer for your vehicle in minutes.
Get started by answering a few questions about your vehicle.
Then you'll get an offer. Options include selling your car for cash or trading it in.
When you sell your car to Carvana, you can schedule pick-up of your old car. You get paid by check or direct deposit.
There's also the option to trade in your car and apply your trade-in value to reduce or remove the down payment on your next car.
3. Junk and scrap yards
Junk yards and scrap yards mostly deal with vehicles that are beyond repair. They dismantle them for parts that they then sell to customers ranging from repair shops to individual buyers.
You can take individual parts to the junk or scrap yard or the entire car.
Keep in mind that these establishments typically aim to acquire your car parts for the lowest possible price. This is because they're resellers who want to make a profit.
Quick cash is to be made at these places though, making them a valuable avenue for offloading auto parts.
The offer value you'll get depends on things like demand for the part, the condition of the part, and the rarity of the part.
Vroom purchases entire vehicles. You can get a free appraisal from the site. You just need to provide some details such as your vehicle's license plate or VIN, mileage, and any extra features.
Vroom then sends you a price for your vehicle. This price is good for 7 days and 250 additional miles.
Next, you will need to upload some pictures of your photo ID and registration and the company's team will be in touch to discuss finalizing your deal.
The company will schedule free vehicle pickup. You get paid by check.
Pull-A-Part will purchase your entire vehicle saving you the hassle of dismantling the car for parts yourself. You can contact the company for a quote. Accept the quote and Pull-A-Part will schedule you for a free tow. You get paid when the company picks up your car.
What's good about Pull-A-Part is that it buys cars of all types – whether they run or not – regardless of age, size, or condition.
6. Scrap metal yards
Trade your old car parts for cash by taking them to your local scrap metal yard. A quick internet search for "scrap metal yard near me" will bring up places nearby.
Scrap metal yards will pay you for the metal content of the car parts.
Valuable parts to sell at your local scrap metal yard include:
Engine: This can include iron, steel, aluminum, and copper.
Transmission: This can include iron, steel, and aluminum.
Catalytic convertor: This can include platinum, palladium, and rhodium.
Battery: This can include lead.
The amount you'll receive depends on the type of metal your car parts contain and the current market value of those metals.
7. Auto parts stores
Auto parts stores are excellent avenues for offloading automobile components. Use the internet to search for "auto parts stores near me." Give them a call to ask if they buy used car parts. Head on over there if they do and trade those parts for cash.
8. Local flea markets
Flea markets can be a worthwhile option and one that many people overlook. Those with multiple parts to sell or a few different items, in general, may have success with this option.
Facebook Marketplace is a popular buying and selling platform. It facilitates local sales. You can put up a quick listing on there for your auto parts to reach local buyers.
Listing stuff on Facebook Marketplace is free. It doesn't charge any fees on local sales either. Since you get to set your own prices and you don't pay fees, this platform is one of the best profit-wise.
Facebook Marketplace also allows you to ship stuff, provided that you sell as a shop and are willing to pay a selling fee of 5% (or $0.40 minimum per order).
OfferUp is an excellent platform where you can sell different items to people near you. For local sales, because OfferUp doesn't charge you any fees it's excellent. Just put up a listing and you can keep 100% of the profits when your car parts sell.
OfferUp does also enable sellers to ship stuff for a fee of at least $1.99 or 12.9% of the sale price when shipped items sell.
11. Car Shows
Local car shows can be a good place to sell car parts. You will be able to put up a booth and sell any of the vehicle components you have.
12. Car Clubs
Joining a local car club can be an effective way to trade in any car parts for some cash. Members of automobile clubs are often on the lookout for secondhand auto components opening you up to a variety of potential customers.
13. Auto salvage yard
Auto salvage yards typically have a large inventory of used car parts and are often on the lookout for more.
This means that you may be able to trade in old car parts at your local auto salvage yard. You can search the internet for "auto salvage yards near me." After that, get in touch to ask if they are interested in buying your used car parts.
Peddle will pay for your entire vehicle. Tell the company a little about your car like its make, model, and condition to get an offer. You have seven days to accept the offer. The company will schedule a free pickup of your vehicle. You get paid by check on the spot.
15. Local newspapers
The local newspaper is still a good option for selling items. This includes car parts. Post an ad in the classifieds to reach local buyers. Be sure to include detailed information about the parts, such as make, model, and year.
16. Yard sale
Yard sales are an effective way to get rid of multiple things all at once. Clear your home of old stuff and sell your car parts.
Sell your entire vehicle to CarBrain and save yourself the hassle of dismantling the car.
The company specializes in buying "less-than-perfect" cars. This means cards with body damage, mechanical problems, or just excess wear and tear.
Enter some details about your vehicle, get an offer, and CarBrain will pick up your car and pay you for your vehicle.
Craigslist is a popular platform. This means that depending on where you live, your car parts listing could get a lot of views. What I like about Craigslist is that it doesn't charge you any fees for selling – as in listing stuff on there is free and you won't pay any commission on sales.
5miles is a website for buying and selling items locally. You could list your car parts for sale there. It's free to put a listing on the platform.
Where to Sell Used Car Parts Online
Selling car parts locally is quick and convenient. You do have some avenues to try though if you're wanting to sell auto parts online.
Ebay Motors is a platform where buyers can sell car parts and entire vehicles. Put up a listing where you provide some information on the car parts or vehicle you're selling and add some photos.
There are fees charged for selling through the platform.
Much like eBay, eBid is an auction website enabling sellers to list multiple items for sale. You could post your car parts there.
Rev up Your Earnings: Sell Your Car Parts for Cash Today!
Say goodbye to your old car parts and hello to extra money!
Whether you buy and sell used parts or just have an old beat up car that you can't sell as a whole but would like to get some money out of it, now that you know where to sell used car parts for cash near you and online, you can turn those old car parts that you'd otherwise throw out into money in your pocket.