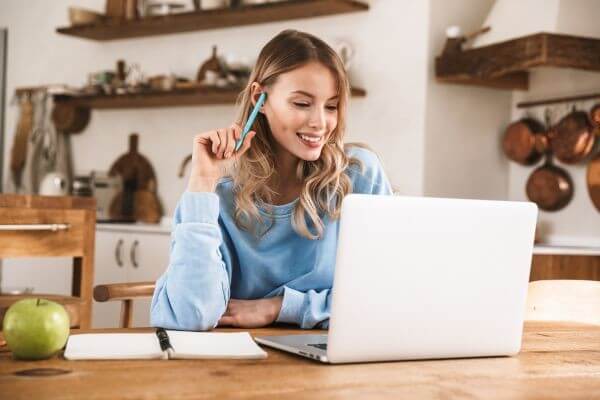 If you're a polyglot, someone who's fluent in more than one language, you could get paid to translate.
You see, 7,168 languages exist on Earth.
However, a little over half of the world's population speaks only 23 languages.
And since not everyone can speak more than one language, this could be a great monetary opportunity for you.
You're probably asking, "Why do people need language interpreters these days, especially now that we have tools like Google Translate?"
While it's nice that we have online translation tools, they're inaccurate at times; therefore, they can't totally replace a human interpreter.
As a translator, you could get paid to translate simple documents from home, add subtitles to videos, work as a live interpreter to facilitate business deals, or do other jobs.
I have a list of businesses that hire beginner, intermediate, and/or advanced translators.
Check them out.
Best Online Translation Jobs
Ready to make money as an online translator?
Here are the best companies, websites and apps that pay you to translate.
Pay Amount: €0.03 to €0.06 per word
Speakt pays you to translate medical, legal, and technical documents.
All you need to do is sign up for an account, take a test, and find available jobs.
You receive payment on the 1st of every month via IBAN or PayPal when you hit the €30 threshold.
Speakt requires you to possess certification before applying.
With Gengo, you'll translate the following:
Social media posts
Reports
Articles
Presentations
Product descriptions
And more!
In addition, you could also complete jobs like subtitling and video transcription.
Payment schedule is on the 10th and 25th of each month via PayPal or Payoneer.
Minimum threshold is $2 for PayPal and $20 for Payoneer.
Pay Amount: €0.011 to €0.06 per word
Work on legal, digital, and other types of translations through Fairlingo!
The company hires both beginner and experienced translators.
After you register, you'll translate or edit assignments that arrive in your inbox.
You get feedback on each task, plus earn more money as you improve your translation skills.
If you're just starting in the freelance translation industry, you might like Conyac because it doesn't require you to take a test before accessing work.
However, you'll need to take exams to move up levels.
Conyac levels include:
Trainee
Starter
Standard
Senior
Expert
You can even communicate with fellow translators to ask questions or assist each other.
Get paid via PayPal or a Japanese bank account. (Conyac is based in Japan.)
Pay Amount: $84,000 to $90,000 per year
Acclaro provides freelance translation jobs involving translating/editing text, computer software, and more.
Many of the jobs require experience and college credentials, so this platform might be perfect for you if you're no stranger to translations.
Pay Amount: $21 to $25 per hour
Some of the language interpretation projects Lionbridge hires for include remote interpretation, over-the-phone interpretation, and conference/on-site interpretation.
When projects are available, you'll need to go through a rigorous screening process before you train and begin working.
Check back often since project availability constantly changes.
Tomedes is where you can translate, proofread, and/or edit general business, marketing, financial, and other materials.
Here's how it works, you create an account, wait for an email from Tomedes, and bid on a job.
If your bid is accepted, you'll work on the assignment, upload it, and get paid.
Receive payment via Moneybookers or PayPal.
Pay Amount: $8 to $18 per hour
Unbabel specializes in translation editing.
To be an Unbabel editor, you have to create an account, pass an exam, and wait for a team member to get back to you when work's available.
Consider becoming a Smartcat vendor!
Upon completing your profile, you can accept or reject assignments, and receive payment through wire transfer, PayPal, or bank card.
Smartcart even offers AI technology to help you translate documents faster.
With Appen, you can work on translation and translation review projects.
The company doesn't require you to possess previous translation experience.
All you need is a computer or smartphone to get started.
Smartling hires translators and editors to work with clients working in niches like tourism, entertainment, and lifestyle.
To qualify for jobs, you'll have to take a 400-word proficiency test covering finance, IT, or another topic.
Subtitler, editor, or translator?
You might have a field day with ProZ because its database is filled with language industry gigs.
Just think of it as an Upwork for foreign language experts.
I scanned its listings and was intrigued by some of the types of jobs it offers.
Here's a sample of what you could do:
Language auditing
Proofreading
Manga translation
Video dubbing
Foreign language copywriting
And much more!
Apply as a translator or voice artist through BLEND.
Regardless of the position you apply for, you'll receive access to a platform where you can easily communicate with your clients.
Furthermore, you can associate with other professionals via BLEND's forum, meetups, and live discussions.
Pay Amount: $2 to $500 per order
With Translate.com, you earn money translating/editing documents like emails, tickets, files, and texts.
You can withdraw money upon making at least $20.
What's interesting about Tethras is that its main niche is mobile app translation.
In other words, you have to download its app (and pass a test) before searching for gigs.
Translate as many apps as you wish and get paid via PayPal.
Download for iOS or Android.
Though AHTTR mainly focuses on transcription, it also offers remote foreign language translation positions, particularly for the Spanish language.
The company only hires U.S. residents and prefers those dwelling in Florida.
You also need to possess certification and pass a background check.
Responsive Translation accepts resumes from professional linguists/translators.
If you're interested in a position, submit your cover letter and resume to resume@resptrans.com.
You'll find thousands of gigs on Translation Directory.
However, you have to pay a membership fee of $8 per month or $96 per year.
Sign up as a freelance translator or copywriter through TextMaster!
If you're a semi-professional, you can work on simple translation projects to supplement your current income.
If you're a professional who wants to use TextMaster full-time, you'll need either certification or years of experience in languages, journalism, or translations.
Access assignments anytime you want and receive payment via Payoneer or PayPal.
TranslatorsCafe is an online directory that connects translators/interpreters and clients.
It's free to create an account, plus you can track any job applications you submit.
Additionally, TranslatorsCafe has a forum where you can chat with fellow translators.
If you like translations and writing, consider The Open Mic!
Upon creating your account, you can write and post articles, find work, and communicate with other translators.
Pay Amount: $1.50 to $3.00 per audio/video minute; up to $958 per month
With Rev, you can add requested foreign language subtitles to English-language videos.
Some of the material you'll work with include podcasts, interviews, and lectures.
Best of all, you get paid via PayPal every week.
Pay Amount: Varies; depends on the job position
LanguagueLine Solutions hires linguists and interpreters in the U.S. and the U.K.
On-site and remote positions are available.
If you have a college degree, two years of translation experience, and are skilled with translation technology, you might feel at home with Linguistic Systems, Inc.
This company also seeks translators possessing acumen in subjects like engineering, law, and biotechnology.
Send your resume to vendor@linguist.com.
GlobaLink Translations Ltd. frequently hires translators and translation reviewers.
Submit your resume along with its Translation Information Form to translators@GlobaLinkTranslations.com.
Be a Languages Unlimited, LLC freelancer!
Just create your interpreter/translator profile and wait for the company to contact you with more information.
Pay Amount: Varies; depends on the position
USA TRANSLATIONS hires freelancers for these positions:
Translators
Interpreters
Desktop publishers
Transcribers
Sales associates
Send your resume to associates@usatranslations.com.
PacTranz — short for Pacific International Translations — provides translation services like personal translations, business translations, and interpretations.
Fill out its application form to inquire about openings.
The positions Ulatus offer include translator, translation checker, interpreter, and voice-over artist.
Complete the application form and wait for a response.
Pay Amount: €0.90 to €1.10 per minute
There are two freelance translation positions available at Happy Scribe: subtitling and transcription.
You take a test, and upon passing, you select assignments and get paid every other week.
Pay Amount: Up to $0.15 per word
Translatorsbase has many freelance translation projects like revision, proofreading, translations, and voice-over.
Withdraw your earnings via PayPal once a month when you hit $40.
Translation FAQ
Here are answers to a few commonly asked questions about online translation jobs and working as a translator.
What qualifications do I need to get paid to translate?
Translators must be fluent in at least two languages and have a strong understanding of both cultures to meet the requirements of most companies and clients. A relevant bachelor's degree, such as in translation, linguistics, or a foreign language, is often required as well.
How much can I earn as a translator?
Your experience, language skills, and the type of work you do will determine your earnings. Some translators charge by the word, while others charge an hourly rate. Translators typically earn between $0.05 and $0.20 per word or $15 to $50 per hour on average..
I would like to get into the translation niche, but I'm only fluent in my native language. How do I build my foreign language skills?
There are a few ways you can learn a foreign language or two:
Subscribe to a language learning platform, e.g., Rosetta Stone.
Check to see if your local community center or college offers foreign language courses.
Place an ad on Craigslist or a freelancer site to hire a tutor to give you private lessons.
Some of the listed companies require translation certification. Where do I go to obtain one?
You would go to the American Translators Association website.
Here, you'll find information about what the exam entails and the rules you have to follow.
You can take the exam at an on-site location or in your home.
Feel free to prepare by taking the practice exam.
Translate Your Language Skills into Cash!
It's really cool that so many languages exist in the world.
While foreign languages can cause barriers sometimes, translators can aid in facilitating communication between parties.
Translations do not only help people understand each other; they learn something about each other's mother tongue and culture.
As a linguist, you don't just help clients understand one another; you get paid to translate, too.