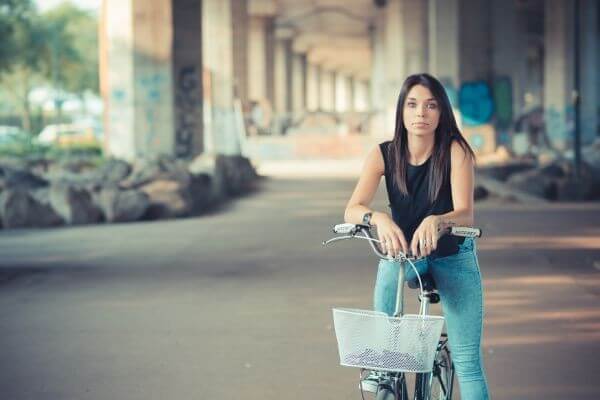 A bike takes up a lot of space in your home and if you don't use it, you may as well sell it.
A used bicycle could fetch you some much needed extra cash and you'll also be freeing up some extra room in your house.
Are Used Bikes Worth Anything?
Juts like when you sell a used motorcycle, although you're not going to get the amount you originally paid for the bike when you sell it used you will at least get some cash. That's better than just leaving the bike in your home to gather dust and depreciate further in value.
Factors such as how old the bike is, the condition it's in, and the model of the bike will all affect how much you can sell it for.
To see what you could get for your bicycle, go onto sites like eBay and see what other people are charging for the type of bike you're selling.
Another option you have is to use this value guide from Bicycle Blue Book.
Where to Sell Used Bikes for Cash Near You
Anyone wanting to know where to sell used bikes should go with these options.
Put a listing for your bike on Facebook Marketplace. It's free to do. There are no fees on local sales. You do have the option to ship your bike too though.
To ship it, you'll need to sell as a shop and pay a selling fee of 5% (or $0.40 minimum per order) though.
Take your bike to your nearest Play It Again Sports store and an employee will review it based on its condition and demand.
The store will make you an offer if it decides to purchase your bicycle. You get paid on the spot.
3. Local used sporting goods stores
Ask at your local sporting goods store whether they buy used bikes. Not all of them do, which is why you should call ahead. Sporting goods stores often pay you on the spot, making this a good avenue for getting cash fast.
The downside is that these places might not give you the most value for your bike. They're resellers who want to resell your bike for a profit, meaning they'll offer you less than what your bike is worth.
List your bike for sale to local buyers on OfferUp. No fees are charged for local sales where you don't ship your bike.
You do have the option to ship your stuff too. This incurs a fee of at least $1.99 or 12.9% of the sale price when your shipped items sell though.
Craigslist is easy to use and free, which is why it's a worthwhile platform for selling your bike.
The site doesn't charge listing fees or commission fees meaning you get to keep 100% of your earnings from the sale.
List your bike for sale to local buyers on 5miles. It's free to list items on there.
7. Local pawn shops
Some pawnshops purchase used bikes. Pawnshops want to resell stuff though, and this results in them purchasing your bike at a low price to resell it for a profit. This means that you won't get the most value for your bike selling to these places.
For fast cash though, they're a great choice as you can get paid on the spot.
Use Google to search for pawnshops near you and call ahead to check if they buy used bikes.
8. Yard sales
You could have a traditional yard sale if you have a few things to get rid of.
You don't have to deal with the hassle of shipping your bike or meeting up with different buyers.
9. Local classified ads in newspapers
You could post an ad for your bike in your local paper and sell it to people near you.
VarageSale allows you to sell a variety of items to people near you. It's like an online garage sale. It's free to list your bike for sale on VarageSale.
Where to Sell Used Bikes Online
To sell your bike online, give these places a go.
You can submit your bike, frame, or wheels online to sell them to The Pros Closet. The company's team will analyze your submission, and if accepted, an offer will be made in two business days.
Payment options include PayPal and The Pros Closet store credit.
Fill out the online form on the Goodbye Cycle website and the company will review it and give you an offer. You can decide on which shipping option works best for you, pack up the bike, and send it to the company.
You get paid when the company receives your bike. Payment options include PayPal or check.
BicycleBlueBook gives you a few different methods for selling your bike.
You can list your bike for sale on the site's marketplace.
Instant payout. This is where you get a quote for your old bike and get an instant payment to your PayPal account.
Trade-in. This is where you trade in your old bike for a new one at the company's Authorized Trade-In Partners.
Put a listing for your used bike on eBay. It's a good platform if you want to showcase your bike to millions of potential buyers.
You are charged a final value fee – typically 13.25% of the sale price or lower, plus $0.30 per order when you sell the bike.
List your bike for sale for free on SidelineSwap and set your own price for it too. You get a prepaid shipping label from the company once your bike sells.
You do have to pay fees on sales. The fee is 12% for the first 5 sales you make on the site and 9% for sales after that. You can cash out to your bank, spend the money on SidelineSwap, or get gift cards.
There's a subreddit called r/BikeShop where you can list your bike for sale.
List your bike for sale in the Bikesoup marketplace. Potential buyers can contact you and you can ship your bike when you make a sale.
Tips for Selling a Used Bike
Of course! As an experienced used bike seller, I can provide you with some valuable tips for selling used bikes:
Clean your bike
Be sure to clean and polish your bicycle thoroughly. A clean and shiny used bike gets you more cash!
Give accurate description
Be honest and transparent about the bike's condition in your listing. Mention any flaws or wear and tear on tires, the skeleton and other parts, as this builds trust with potential buyers.
Add quality photos
Take a few clear and high-quality photos of the bike from different angles. Show close-ups of important components and any unique features.
Price it correctly
Look up on these platforms to see what similar bikes are selling for and price your used bike accordingly.
Meet in a safe place
If you are selling to someone locally, make sure to meet in a public and well-lit location. Somewhere like your local police station parking lot or inside a mall.
By following these tips, you'll increase the chances of selling your used bike quickly and efficiently, while also providing a positive experience for potential buyers.
Pedal Your Way to Profit!
Take action now and turn that unused bicycle into cash!
Selling your used bike is not only a smart financial move but also a great way to declutter and make room for new adventures.
Now that you know where to sell your used bike, use the platforms mentioned in the post to find the perfect buyer for your beloved bicycle and pocket some extra money in the process.