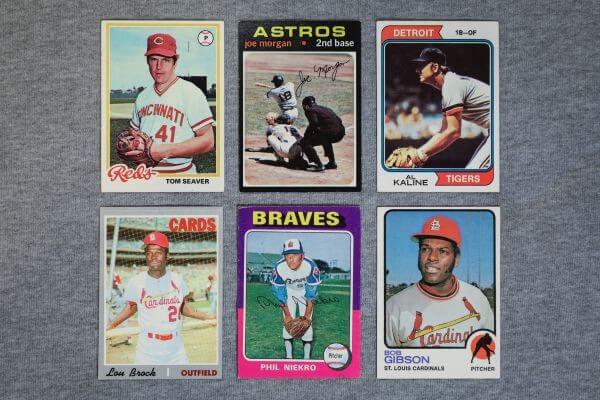 Thinking about selling your baseball cards?
Whether you're a dedicated collector of baseball cards with a treasure trove of iconic memorabilia or just stumbled upon a collection of vintage sports cards that includes a few baseball cards, finding the right avenues to sell your baseball cards can make all the difference.
In this post, I'll guide you through the top destinations where you can find people who buy baseball cards near you or online, and sell them for the most cash.
Are Old Baseball Cards Worth Money?
Yes, you can sell your old MLB cards and make a little extra money.
Depending on the type of card, baseball cards can be very valuable.
These are the most valuable baseball cards:
1952 Topps #311 Mickey Mantle: Estimated SGC 9.5 Value: $12,600,000
1909-11 T206 White Border Honus Wagner: Estimated SGC 2 Value: $7,250,000
1914 Baltimore News #9 Babe Ruth: Estimated Value: $6,000,000
1933 Goudey #53 Babe Ruth: Estimated PSA 9 Mint Value: $4,212,000
1951 Bowman #253 Mickey Mantle Rookie Card: Estimated PSA 9 Mint Value: $3,192,000
Those prices obviously aren't typical. Still though, it demonstrates the value that some of these cards have.
You can have a browse of this list from OldSportsCards.com if you wan to learn more about the most valuable baseball cards.
Where to Sell Baseball Cards Near Me
Selling baseball cards locally is an effective way to cash in on your collection. You can get cash on the spot, and you don't have the hassle of shipping your cards.
These places are your best avenues for selling baseball cards near you.
1. Local card shops
Local card shops could be a good place to trade in your baseball cards for cash. Find local shops by doing an internet search for "card shops near me." Give them a call to ask if they purchase baseball cards.
This is a convenient way to sell as you can get cash then and there. The downside is that these places typically give you a lower price than your cards are worth. This is because they want to buy them at a low price to sell them for a profit.
For offloading sports collectibles of any kind, including football cards, basketball cards and of course baseball cards, Craigslist is a worthwhile contender. You can put up a listing for free within minutes.
The site also doesn't charge you any commission on sales. This means you get to keep all the cash from your sales.
3. Pawn shops
Some local pawn shops will buy baseball cards. These places are looking to resell stuff for a profit though meaning you're not going to get the most money for your collection. However, they do pay fast.
List your baseball cards for sale on OfferUp. The website enables you to sell stuff in various categories. OfferUp doesn't charge any fees on local sales. This means you get to keep all of the money from the sale.
You can also ship your cards if you want to. However, you will need to pay a fee of at least $1.99 or 12.9% of the sale price.
5. Yard sales
Yard sales are good for offloading any unwanted sports memorabilia or collectibles you may have. You could offload your baseball cards along with anything else in your home that you want to get rid of.
Yard sales allow you to set your own prices and forgo the hassle of shipping.
6. Auction houses
Auction houses are an avenue to think about if you have a particularly valuable baseball card or collection.
Find local auction houses by doing an internet search for "auction houses near me." Auction houses typically take a commission on the sale.
7. Flea markets
Set up a booth at a local flea market to sell your baseball cards. This is an effective way to find local buyers fast.
Where to Sell Baseball Cards Online
The internet opens up your collection to a wider range of buyers than you'd find in your local area. These places are ideal if you want to sell baseball cards online.
No matter what it is you're selling, eBay is always a good option. Baseball cards are no different. You could list your baseball cards for sale on there.
You can list up to 250 items a month on there for free. There's a fee of 13.25% of the sale price for most categories when your stuff sells.
TonyeTrade buys and sells baseball cards. With 30 years' experience this site is well-established in the market.
You can contact the company to schedule an initial consultation. You'll discuss the age and condition of your collection with the company. The company will go over additional details and answer any questions you may have.
TonyeTrade will evaluate your collection and then you can choose your best option for selling. The company can broker your baseball cards for sale through its extensive database of contacts or offer consignment.
Once the terms of your transaction are secured, TonyeTrade will handle any packaging and delivery requirements at no cost or inconvenience to you.
At DA card world, you can sell sealed boxes and cases of sports cards and modern sports card singles. The company will buy baseball cards as well as cards from other sports, like hockey cards and football cards.
Beckett is ideal for experienced dealers. The site's dealers reach more than 20 million collectors each month.
Become one of the site's dealers and get access to a variety of tolls to help organize your collection and keep track of selling prices.
As one of the site's dealers, you will get your own customizable store front, be able to list your items for sale on the marketplace, and get access to millions of stock card photos to enhance your listings.
It's effective for anyone with valuable, old cards or an extensive collection.
Sell your old baseball cards on SportsCardPro. There are no listing fees.
There is a payment processing fee of 2.9% plus 30 cents that you need to pay though.
Dean's Cards buys pretty much any card from 1969 or before and most complete sets through 1985.
The company rarely purchases cards that are newer than 1980 though – with the exception of some complete sets. Fill out the form to get an appraisal. You can mail your cards to the company.
StockX is a company to think about. It's particularly good for selling rare sports cards and memorabilia. Visit the site and search for the baseball card you have. Browse through the results and click on your card. This will take you to a product page for that card. Click on "Sell for – or Ask for More."
This will begin the process of selling your cards to the company.
All cards need to be graded, PSA or BSG with the slabs in acceptable condition – no cracks, chips, or major scratches.
You can either set your ask price to let buyers know the price you're willing to sell the card for or accept the highest bid that a buyer places.
You can then ship your cards to StockX.
Trade in your old baseball cards for cash at The Cardboard Connection. The company is an ideal place to offload sports cards, sports collectibles, and sports memorabilia.
Fill out the form on the site and the company will refer you to one of its buying partners.
The Cardboard Connection is mainly after cards from before 1974, as it says that most cards from the 1980s and 1990s don't have much value.
Sell vintage sports cards on Just Collect. It buys cards from 1979 or earlier. It will buy some modern cards too.
Use the site's appraisal form to get started. You can mail your collection to Just Collect, and it will pay for shipping and insurance. You can also sell your cards to them in-person. You can drive to one of its appraisal locations or they can drive to you.
Reddit is a surprisingly effective place to sell your baseball cards.
There's a subreddit called r/baseballcards where you can list your cards for sale.
FAQs About Selling Baseball Cards
We've covered some answers to FAQs on selling baseball cards.
What is the best way to sell my baseball cards?
The best way to sell baseball cards depends on your needs. Cards that are high value are best sold through places like Beckett or StockX, or auction houses. For cards that have a lower value, sites like eBay and OfferUp are worthwhile contenders.
Where should I sell my old baseball cards?
For fast cash, you're best selling locally, like on Craigslist or at your local card shop.
Selling online is worthwhile because you can reach more buyers. Some good platforms include TonyeTrade, DA Card World, and Dean's Cards.
Anyone looking to set their own prices or who has some lower value cards in their collection should consider eBay, Reddit, Craigslist, or OfferUp.
Where can I get the value of my baseball cards?
To get the value of your baseball cards, use the Beckett price guide. You can also do your own research by looking on platforms like eBay and other online marketplaces to see what price other people are selling the same cards for.
What makes baseball cards valuable?
The value of your baseball cards depends on a number of factors. Vintage cards – those made before 1979 – are typically more valuable than those from the 1980s and 90s.
That's not to say that modern cards don't have value. Age isn't the only determining factor for value here.
Some modern cards that can be valuable include:
A current or future Hall of Famer's rookie card in pristine condition.
Cards that feature a printing error.
Cards that are autographed by the player himself.
You can typically sell most types of baseball cards. However, the ones that fit the criteria above are generally the most valuable.
How do you sell baseball cards in bulk?
One of the best places to sell baseball cards in bulk is on eBay. You can offload your entire collection on there.
Play Ball: Turning Baseball Cards into Profitable Pitches!
Many MLB cards have at least some value. This means you could trade them in for cash.
From online platforms to local shops or individual collectors who buy baseball cards near you, you now have a range of options to explore when it comes to selling your baseball cards for a fair price.