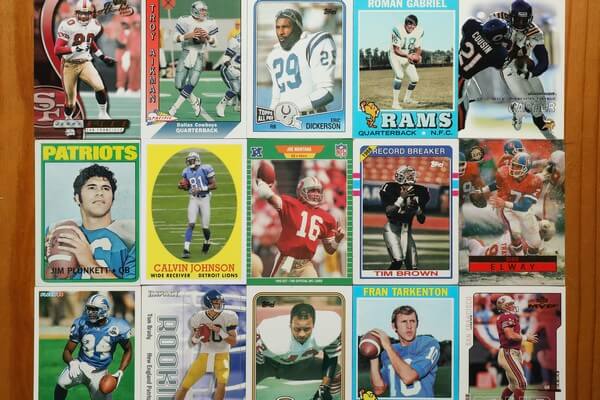 Selling football cards would not be possible without a company called Goodwin & Co as without it there wouldn't be football cards to sell!
In 1888, Goodwin & Co. produced the first American football trading card.
It was a cigarette card featuring Yale's Harry Beecher. The Beecher Card was part of the 1888 Goodwin Champions collection, a series of tobacco cards that were nationally distributed in packages of Old Judge & Gypsy Queen cigarettes.
Since that first card was produced more than a century ago, the football card and sports cards market, in general, has grown tremendously. There are collectors trading cards online and in-person.
Depending on the kind of card you have, how rare it is, what year it was produced, etc., you could earn good money selling them to the right buyers.
And whether you want to sell your football cards online or to someone near you, you have tons of options.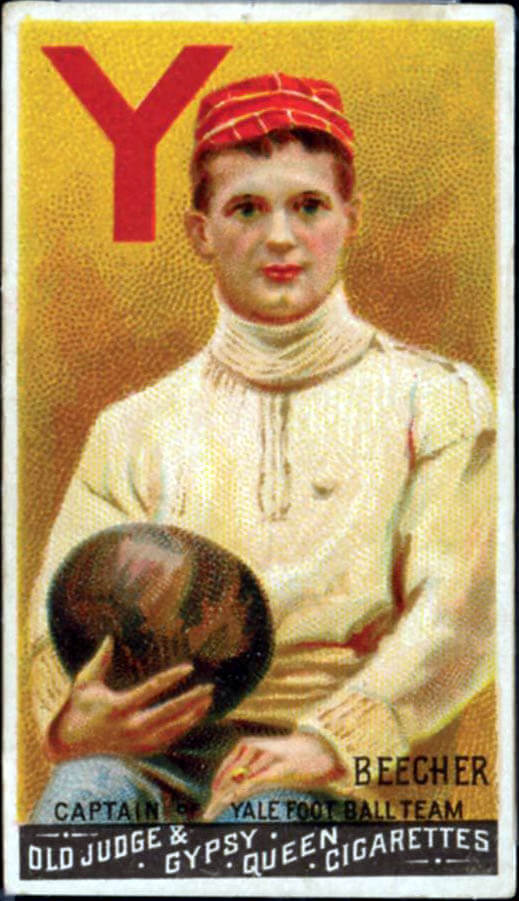 Are Football Cards Still Worth Money?
Yes!
There is a large market for merchandise and collectibles in football, including football cards. There are some valuable cards out there and football cards are certainly still worth money.
Many factors influence how valuable football cards are, such as:
Condition: The better condition your cards are in, the more money you can get for them. This means that cards that are in mint condition are going to fetch the most money.
Rarity: The rarer the card, the more money you'll get for it. Overproduction will drive down the price of a card whereas football cards that are rare are typically more valuable.
The player's accomplishments. Cards featuring MVPs, players who've broken records, Hall of Famers, and things like that are going to be worth more money. A Tom Brady rookie card for example is going to have a higher value than most other sports cards.
The team's accomplishments. Players on a championship team tend to see a boost in their card's value.
Now that you know the factors that influence pricing, let's cover some places to sell your football cards to make extra cash.
Where Can I Sell Football Cards Online?
Going online is one of the best ways to sell your football cards because you can reach collectors from all over the world.
Let's start with the best online places you can use to offload your cards.
Best for: Experienced dealers
The Becket Marketplace has an inventory of more than 30 million sports, non-sports, and gaming cards, and collectibles from dealers nationwide.
The site's dealers reach more than 20 million collectors each month. You can become one of the site's dealers and get access to numerous tools to help organize your collection and keep track of selling prices.
Dealers get their own customizable online storefront, the ability to list their items for sale on the marketplace, and access to millions of stock card photos to enhance their listings.
The site is ideal for those who have valuable, old sports cards or an extensive collection.
Best for: Authenticating and selling rare collections
PSA Forums grades sports cards. It has a buy, sell, and trade forum where you can trade your cards for cash.
PSA Card authenticates and grades the cards that you upload to the forum. It's one of the more active marketplaces for buying and selling sports cards.
You can negotiate prices and shipping directly with the buyer, which can help you to get the best price for your football cards.
The forum is best for rare and high value cards. The company also accepts other sports memorabilia.
Best for: Selling rare sports cards and memorabilia
You can sell football cards on StockX. Visit the site to search for the football card you have. Browse through the results and click on your card. You'll be taken to a product page for your card. Underneath, "Place Bid" and "Buy for" click on "Sell for – or Ask for More."
This will start the selling process. All cards must be graded, PSA or BSG with the slabs in acceptable condition – no cracks, chips, or major scratches. When you find the card you want to sell, you can either set your ask price to let buyers know the amount you're willing to sell for or accept the highest bid that a buyer has placed.
You can then ship your cards to the company.
Best for: Saving on shipping costs
You can buy and sell sports cards, comics, gaming cards and more at COMC. This is an online marketplace that enables you to set your asking price and respond to offers from buyers.
Not only you can sell football cards here, you can also sell cards for other sports such as hockey, soccer, and baseball.
When your football cards sell, COMC will take care of shipping at no cost to you.
The company lets you choose how you'll get your earnings once you sell your cards.
Here are the payment options:
Convert the store credit you get into cash.
Redeem your store credit to purchase sealed boxes and cases.
Use the store credit to purchase other trading cards or collectibles.
Best for: Selling collections of all sizes
Kruk cards is a reputable option for selling football cards. It's been buying and selling for more than 30 years!
Kruk Cards will assess your football cards and provide you with a quote. It purchases collections large and small.
Best for: Getting the most money for your football cards
For selling anything really, eBay is one of the best platforms around. You could list your football cards for sale on there and any other trading cards or sports memorabilia you may have to unload.
You can list up to 250 items a month for free on eBay. There's a fee of 13.25% of the sale price for most categories when your stuff sells.
Best for: Selling single football cards and entire collections
DA Card World purchases sealed boxes and cases of sports cards, as well as modern sports card singles.
You can sell all kinds of sports cards there, including football cards.
Best for: Setting your own prices and finding targeted buyers
Reddit is a place you may not have considered. It's actually a good place to find buyers for sports cards. There's a community called r/football cards where you could trade your football cards for cash.
Where Can I Sell Football Cards Near Me?
Although online sales allow you to reach a wide range of buyers, you have the hassle of shipping your cards.
When you're looking to avoid the hassle of shipping and want quick cash on the spot, local sales are the way to go.
These options are ideal for local sales.
9. Hobby shows and conventions
Best for: Serious card sellers and collectors
You can sometimes find buyers for your football cards at local hobby shows and conventions.
Most major cities have some kind of sporting convention where collectors buy and sell various memorabilia. You could book a table at a local convention and sell your sports card collection. It's an excellent way to find serious buyers in person.
Contact the convention to book a stall and then prepare your collection for sale.
Best for: Selling lower value sports cards
OfferUp is a marketplace where you can buy and sell items locally. The platform does also allow you to ship stuff. OfferUp is ideal for local sales because it doesn't charge you any fees. Simply put up a listing and you'll keep 100% of the profits when your football cards sell.
Those who do want to ship their cards will need to pay a fee of $1.99 or 12.9% of the sale price when shipped items sell.
OfferUp is good for selling cards in general. It's particularly good though for selling less-valuable collections that you may have difficulty selling on more premium card marketplaces.
11. Local card shops
Best for: Getting quick cash for your football cards
Ask your local card shop whether they buy football cards. Not all towns have a sports card shop. You can see if yours does by doing an internet search for "sports card stores near me" or "football card stores near me." This will bring up any nearby card shops.
Give nearby stores a call to ask if they're interested in purchasing your football cards.
Selling to local card shops won't garner you the highest amount for your cards. This is because these stores typically purchase cards for a lower price than their value in order to resell them for a profit. For fast cash on the spot though, local card shops are ideal.
Best for: In-person cash sales
Facebook Marketplace is good for selling anything really and this includes selling football cards for cash.
The process of selling on there is pretty simple. You create a Facebook account, list your cards on the Marketplace, and start negotiating with buyers. You can upload numerous photos and a description of your collection.
It's free to list your cards on Facebook Marketplace. There are no fees charged on local sales either. This means you get to keep all the cash you make from the sale.
Facebook Marketplace does also let you ship items. To ship your cards, you need to sell as a shop and pay a selling fee of 5% or ($0.40 minimum per order).
13. Pawn shops
Best for: Getting quick cash for your football cards
Most cities and towns have a local pawn shop that accepts sports cards.
Just do an internet search for "pawn shops near me" to find local shops.
These stores don't offer you the best prices for your cards as they want to buy them at a lower price to resell them for a profit. The upside to pawn shops though is that they pay fast. You can typically get cash on the spot.
14. Yard sales
Best for: Reaching local buyers and selling lower value cards
Yard sales are an effective way to clear out your home a little. You could sell your football cards and any other unwanted items at a yard sale. You get to set your own prices too!
Best for: Avoiding selling fees
Craigslist is a good platform for selling everything really from car parts and furniture to sports cards and everything in between.
The main upside to listing and selling your football cards to buyers near you on Craigslist is that you don't have to pay any selling fees
Time to Kickoff Your Football Card Selling Journey!
Unlock the true value of your football card collection by leveraging these top platforms.
From online marketplaces to collector forums and tons of potential buyers who buy football cards near you, selling your football cards for cash is easier than you think!